What the Trios Intraoral Scanner can do for you
Most people have suffered through a dental impression at some point in their lives. The liquid impression material is placed in a tray and then the tray is placed in your mouth. It's easy to experience a feeling of choking as the material hardens. Now, you can rethink dental impressions, thanks to state-of-the-art technology.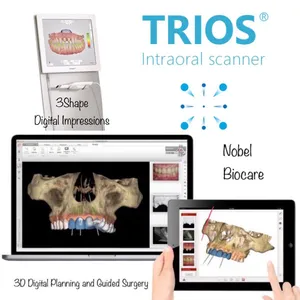 Dr. Francesco P. Maratta has installed the revolutionary, new Trios Intraoral Scanner, a patient-friendly, easy way to take a three-dimensional, full-color dental impression. You will be impressed with the beautiful, accurate images of your teeth, gums and oral structures on the screen.
The Trios Intraoral Scanner is a handheld scanner which is inserted into your mouth. Your dental professional moves the scanner throughout your mouth as it takes computer-accurate scanned images. You can then view these images on a screen, in the office. The Trios Intraoral Scanner shows results that are truly immediate.
People prefer the Trios Intraoral Scanner to conventional dental impressions because the Trios Scanner is:
Quick, so you will have less time in the dental chair
Easy, because you don't have to experience rubbery impression material
Convenient, because there is no mess to clean up on your face or clothing
Patient-friendly, creating real-color images you will love
Accurate, providing a perfect tooth color match to give you better results
Dr. Maratta will use the Trios Intraoral Scanner for the same procedures as conventional dental impressions, including:
Dental crowns and bridges
Onlays and veneers
Removable partials and dentures
Teeth in a day and all on 4
Full mouth rehabilitation
To see how the Trios Intraoral Scanner works, click here 3Shape Trios 3 Digital Scanner !!!

Dental impressions are a necessary tool to provide your dentist with an accurate picture of your jaw alignment, teeth and supporting structures. They are a must-have to complete your dental work. Dr. Maratta has made dental impressions easy. Now you don't have to settle for the discomfort, mess and inconvenience of conventional dental impressions ever again. The Trios Intraoral Scanner provides you and Dr. Maratta with a complete image of your smile, quickly and easily.
For more information on the Trios Intraoral Scanner call Dr. Francesco P. Maratta at New Haven Prosthodontics in New Haven, CT. Call today!